Winless, Dale Jr. worries about missing the Chase
August 21, 2013, Pat DeCola, NASCAR.com
Like
With just three races left before Chase roster locks, Earnhardt Jr. has work to do
"The confidence is there, but the stress is there, too."
That's how Dale Earnhardt Jr. described his emotions heading into the final three races before the Chase for the NASCAR Sprint Cup cutoff while addressing media on Wednesday during a test session at Richmond International Raceway.
Not exactly what we thought we'd be hearing from one of NASCAR's elite this late in the season, is it?
Richmond, of course, is the third of those final three -- a race that's lining up to be a make-or-break event for a driver who is in realistic danger of missing the Chase for the first time since 2010.
Coming off a pair of races at Watkins Glen (one of his worst tracks) and Michigan (one of his best) in which he totaled just 23 points combined, Earnhardt's stock is trending downward, while that of those behind him in the standings is skyrocketing.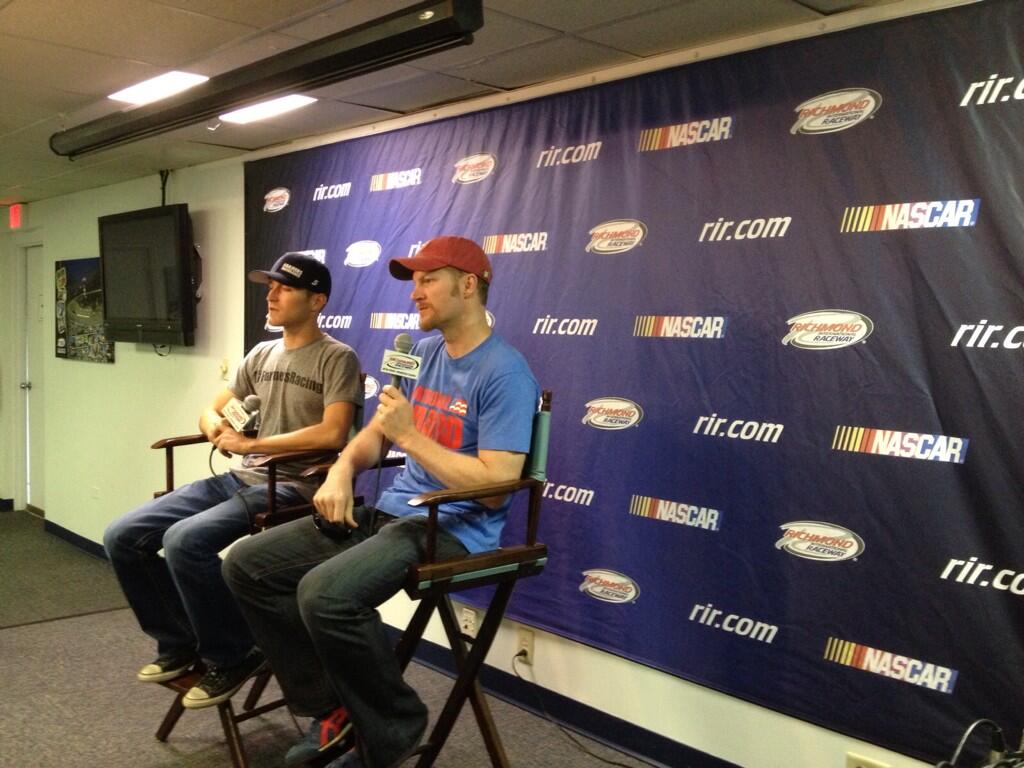 Hendrick Motorsports teammates Dale Earnhardt Jr. and Kasey Kahne addressed the media on Wednesday at a test session at Richmond International Raceway. Photo courtesy of @Hendrick88Team Twitter.

With 679 points and no wins to his credit -- and just one victory since 2008 -- Junior is forced to face the ugly truth that he could very easily lose his Chase spot to the likes of current Wild Card holders Kasey Kahne (659 points, two wins) or Martin Truex Jr. (653 points, one win). This wouldn't be as much of a concern for Earnhardt if Joey Logano (646 points) and Ryan Newman (636 points) -- both of whom have picked up a win in the past month -- weren't primed to slide right into those Wild Card spots should Kahne or Truex move up. Throw in teammate Jeff Gordon (637, no wins), who still has a chance and has made the Chase in all but one season since it began in 2004 -- and Earnhardt's playoff picture gets cloudier each week.
"You definitely don't like to be in this situation," said Earnhardt. "I don't think anybody wants to be on the bubble or be even worried or concerned about points leading up to Richmond, so we hope to have a couple of good weeks and really put ourselves in a pretty comfortable situation before we even come into Richmond."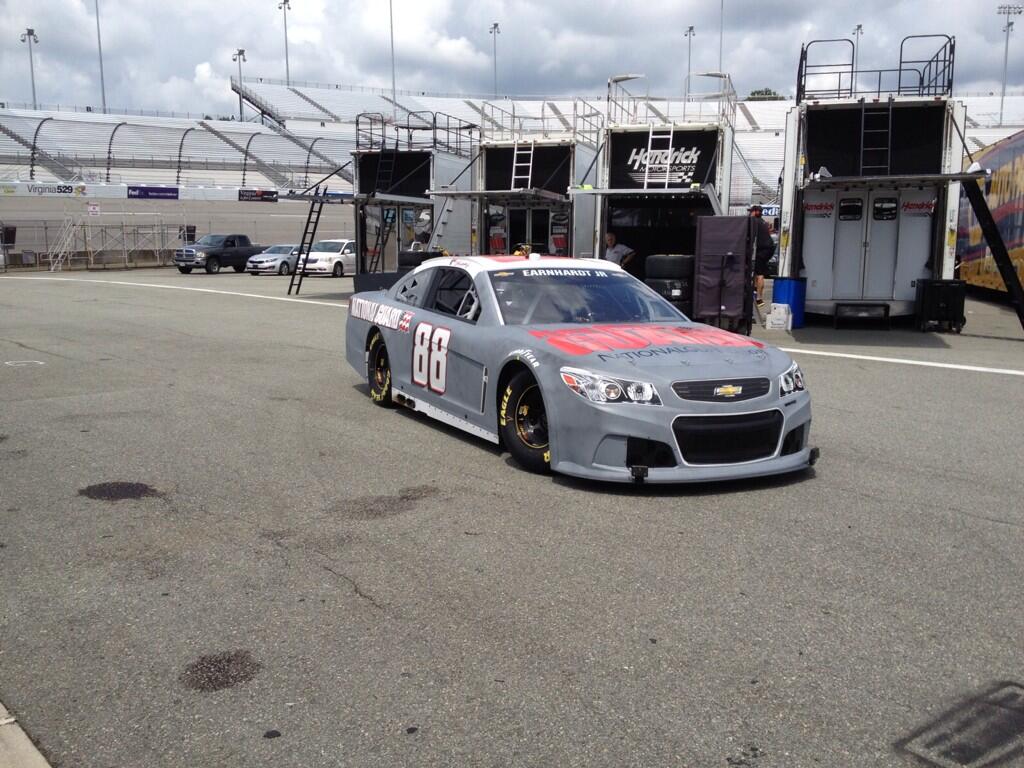 Dale Earnhardt Jr. and his Hendrick Motorsports teammates took part in a test at Richmond International Raceway on Wednesday. Earnhardt, looking for his first win of 2013, is hopeful that the test will help him in the Federated Auto Parts 400 (Sept. 7, ABC). Photo courtesy of @Hendrick88Team Twitter.

To be fair, reigning Sprint Cup Series champion Brad Keselowski and former champion Kurt Busch are in similar positions, sitting in eighth and ninth, respectively, with no wins. But both have been on fire lately and appear to be standing on much firmer ground, with some of their best tracks on the docket.
Earnhardt does have a total of five wins at the remaining courses, and his average finishing positions are encouraging for Bristol (11.6), Atlanta (12.5) and Richmond (13.8), but his most recent victory was over seven years ago (Richmond, spring 2006).
"From my standpoint, this test could have been used at a Chase track," said teammate Jimmie Johnson. "Junior's been pretty comfortable -- well, I guess he's had some issues here recently that maybe make him a little less comfortable, but this track's tough."
Needless to say, Earnhardt agreed.
"I think it's a tough track. Just looking at everybody as a whole, nobody really comes here and is just great every time," said Earnhardt, who did earn the pole at this race last year before finishing 14th. "It's not a track that you see one team consistently dominate, and we've had good cars here and brought back the same setup and it just doesn't work. So you're never really sure when you show up, you just have to get here and do your best and hope that it's going to be a good car and hope the car is fast off the trailer, but sometimes it's not and sometimes it makes for a long night here. This place is so slick and just a little bit off, it's a battle just with yourself and the car all night."
Earnhardt will attempt to get back on track this weekend at Bristol in the Irwin Tools Night Race (Saturday, 7:30 p.m. ET, ABC), which could certainly offer his best remaining chance at a victory. Even though his last win at the "World's Fastest Half-Mile" came in 2004, he finished sixth there in March after starting 32nd and hasn't finished worse than 18th since 2001, with seven top-fives and 13 top-10s since.
Regardless, he's running out of time to earn his crucial first victory of the season, and he knows it. If Earnhardt plans on holding onto his Chase spot, he'll need brush those stressful feelings off and just stick with the confident side of his emotions.
READ MORE: