Hendrick Motorsports driver takes to Reddit, Twitter to answer fan questions
Dale Earnhardt Jr., while undeniably one of NASCAR's most popular -- if not THE most popular -- drivers, has typically shied away from participating in social media.
Sure, there's the fabled @DaleJr unverified Twitter account which has more than 200,000 followers, just over 10,000 more than last year's NASCAR Sprint Cup Series runner-up and social media maven Clint Bowyer. But there isn't a single tweet that has come out of it.

Junior decided to step out of his element Tuesday, however, as he participated in an "Ask Me Anything" session on Reddit.com, where fans literally get to ask the superstar any question and he'll try to answer as many as he can.

Hendrick Motorsports @TeamHendrick
#DaleJr is in the Digital Dashboard and ready to chat! Go to @reddit and ask him anything: bit.ly/1eq3gcq pic.twitter.com/p6Z7QrnEKL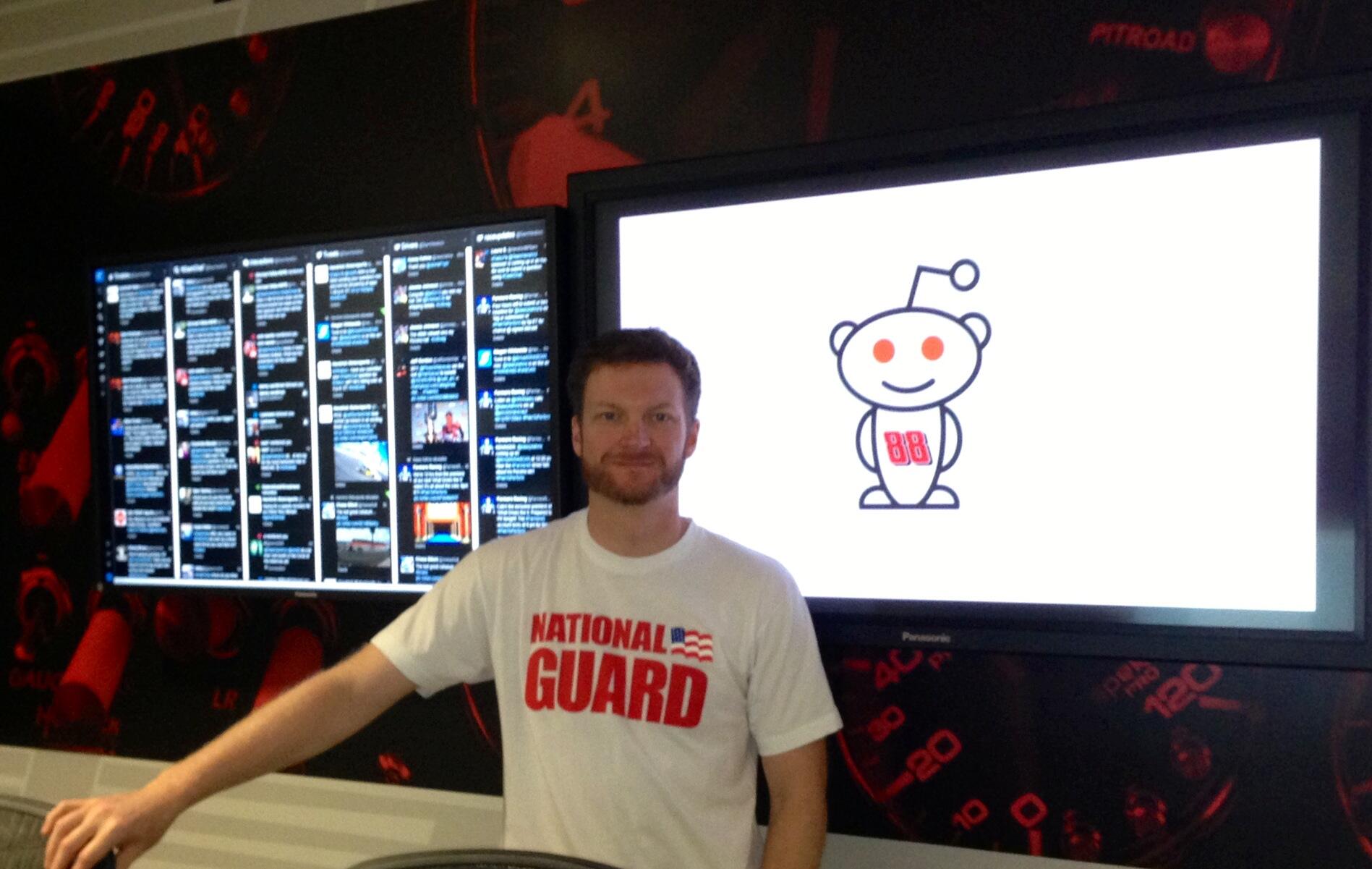 Laura S.@Hendrick88Team
#DaleJr's @TeamHendrick takeover is coming up in an hour! Be sure to submit a question using #DashChat.
JR Motorsports @JRMotorsports
Today's the day! Ready for all-access with #DaleJr? @reddit AMA - 1:40 p.m. ET; Twitter takeover - 2 p.m. #DashChat. bit.ly/1eiM9sT
The AMA produced some great answers out of Junior.
On what year he would pick if he could go back in time and compete in NASCAR in any one year from the history of the sport:

DE: "I would say, 1979. It was my dad's rookie year and the first live flag-to-flag televised race with the Daytona 500."
On his scariest moment on the track:
DE: Any time your car gets upside down, you're in for a wide variety of outcomes. It could be a quick couple flips or it could go in barrel rolls... you just never know. When we're upside down, we're nervous.
On the craziest thing he's seen in the infield:
DE: Name it and I've seen it.
On if he'd rather fight one horse-sized duck, or a hundred duck-sized horses:

DE: It would be more to fight the horses because they'd be in the cute category. It would be like "aw neat, little tiny horses."
On which race he wishes he could have a second chance at this season:
DE: The Michigan race where we had engine problems. I wish we had the chance to run that race without any problems. I think we had a winning car.
On if he was able to get Juan Pablo Montoya's destroyed car from the jet dryer incident at Daytona for his car graveyard:
DE: Yes we were able to get it. It's deep in the woods by request of Chip Ganassi. Pic: http://imgur.com/DmoxITg
On who the most underrated driver is:
DE: I don't know - I don't sit there and categorize or judge my competitors.
On reigning Sprint Cup champion Brad Keselowski wanting to buy a tank:
DE: Brad's getting very close to purchasing his tank and I see that as happening very soon. I think that I'll just look at his tank and watch his tank ride around before I make any purchasing decisions.
On his favorite current and classic street legal car to drive:
DE: I have a '77 Oldsmobile Cutlass that I just got. We take it and make modifications to make it look like an old NASCAR stock car. Here's a pic: http://imgur.com/jVQIiuF

On green-white-checkered finishes and debris cautions:
DE: I like G/W/C finishes but I wish there was only one shot at it instead of 3. And I absolutely despise debris cautions but we cant have anyone running over that stuff now can we?
RELATED: Read the AMA session in its entirety
After wrapping up his AMA session, Dale took to Twitter to take on fan questions by running the @TeamHendrick handle for awhile. Fans were able to get their questions to him using hashtag #DashChat.

There, Junior touched on his biggest pet peeve, his favorite sports movie, his favorite food (sushi), even on if his niece would someday drive for him at JR Motorsports.
Hendrick Motorsports ‏@TeamHendrick
Poor hygiene. @gabby14472 #DashChat
Hendrick Motorsports @TeamHendrick
Bull Durham. I like that it was filmed in N.C.- it brings a local aspect. @danNYdelaney93 #DashChat
Hendrick Motorsports ‏@TeamHendrick
I'm a big fan of sushi. @smi91809240 #DashChat
Hendrick Motorsports @TeamHendrick
That'd be awesome. I'm going to be apart of whatever she wants to be involved in. #DashChat @mdmiller5988