Dale Earnhardt Jr. showed off his burnout skills in front of the Chicago Theatre then spoke to ESPN's Jade McCarthy on SportsCenter
Just a day after wrecking with teammate Kasey Kahne on his way to another disappointing finish at Watkins Glen, Dale Earnhardt Jr. blew off some steam -- literally -- by taking to the Windy City to participate in some events hyping September's Geico 400 at Chicagoland Speedway, the first race in the Chase for the NASCAR Sprint Cup.
Earnhardt, along with Miss Sprint Cup, met with fans to sign autographs before doing a burnout in downtown Chicago in front of the legendary Chicago Theatre.
Following the epic burnout, Earnhardt appeared on ESPN's SportsCenter, speaking to Jade McCarthy about his Chase chances, going back to Michigan, even his fantasy football team and Washington Redskins quarterback Robert Griffin III.
On Michigan: "We want to go get a win. We've not won a race this year, so we're real hungry as a team. We think that since the last two races that I've won have come at Michigan, we can go there real confident that we can get it done."
On how much losing weighs on him mentally: "Every race you don't win, you want to win the next one. We feel like we've got a lot of great speed and we've been real consistent all season, we just can't finish races sometimes. We have a little trouble here with accidents, like last week or other things, kind of bugs getting in the way. We're a competitive team with a lot of speed and feel like we can go in and win any race at any race track we compete at."

On the Chase: "I feel great about where we're at. We've got a little bit of a cushion where we can take a few gambles, take a few risks trying to win those races before the Chase starts. We feel like we're sitting about where we belong as far as our compeition and if we just finish a few other races and do a few things differently early in the season, obviously we'd be a lot further ahead in the points."

On sharing information with his Hendrick teammates: "Obviously when the Chase begins and the teams start really getting competitive, things can get a little more difficult, but the way that Hendrick has always been successful is by sharing that information and all four teams sort of working as one.
"You might be the top team one week, but the next you might be the team that needs the help from the other guy. So you really want to keep those lines of communication open and keep those bridges together and keep everything working 'til the end of the season. I think we all succeed better as a team all together than we do racing against each other."

On RGIII and fantasy football: "I think that he'll start Week 1 and stay healthy all season. I think that he's a top 10 quarterback, so I'm actually going to probably draft running backs first, because it's really difficult to find a good running back that's going to be a workhorse all season. So I'll probably draft running backs first, then look for quarterbacks in the fourth to seventh rounds."

RELATED: Watch Dale Earnhardt Jr. on ESPN's SportsCenter
Later in the day, he answered questions from fans in a Q&A session at Chicago's famed Millenium Park. View the video of the burnout from the official JR Motorsports YouTube account below.
Laura S.@Hendrick88Team
Heading out for #DaleJrCHI. First up is a burnout in front of the Chicago Theatre. Anyone in the city coming to check it out?
Chicagoland Speedway@ChicagolndSpdwy
Some of our fans are already lining up for the @ChicagoTheatre portion of today's event. RT if you're on your way! pic.twitter.com/sHN8NAbRa3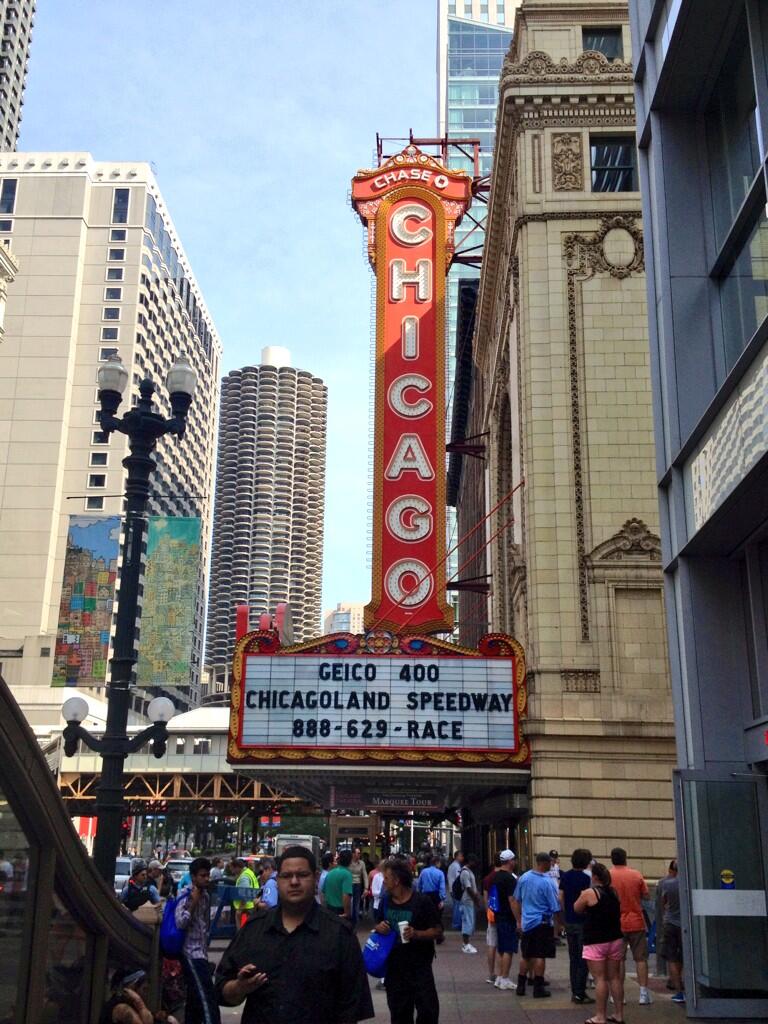 Laura S.@Hendrick88Team
#DaleJr signs autographs for fans outside the Chicago Theatre. pic.twitter.com/77lbYbxkGV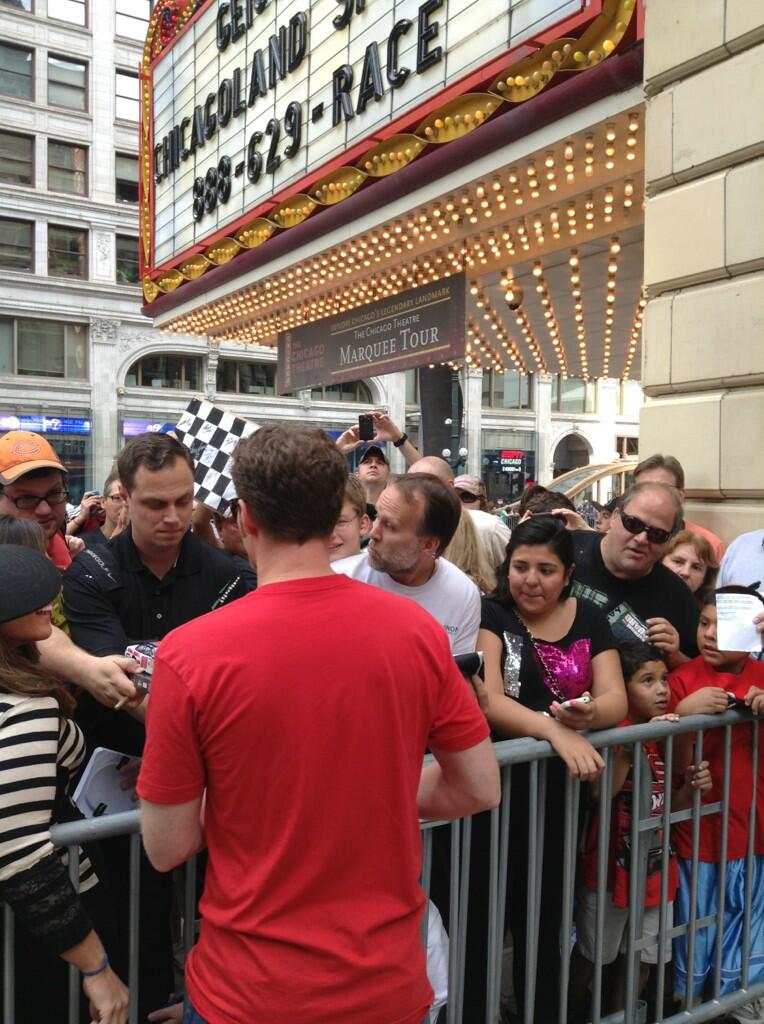 Hendrick Motorsports @TeamHendrick
Epic. MT @Hendrick88Team: Another look at #DaleJr's burnout in front of @ChicagoTheatre. #DaleJrCHI pic.twitter.com/rN4dBqkzRc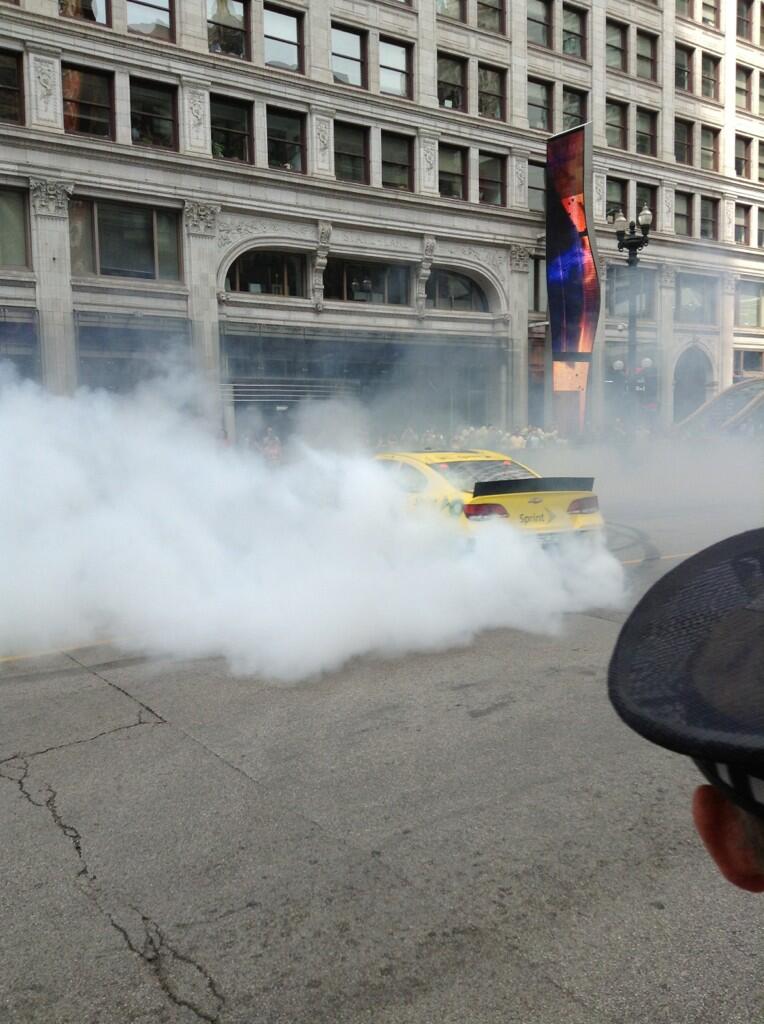 Laura S.@Hendrick88Team
#DaleJr does a burnout on the streets of Chicago! How cool is this?? #DaleJrCHI pic.twitter.com/FL13424MA7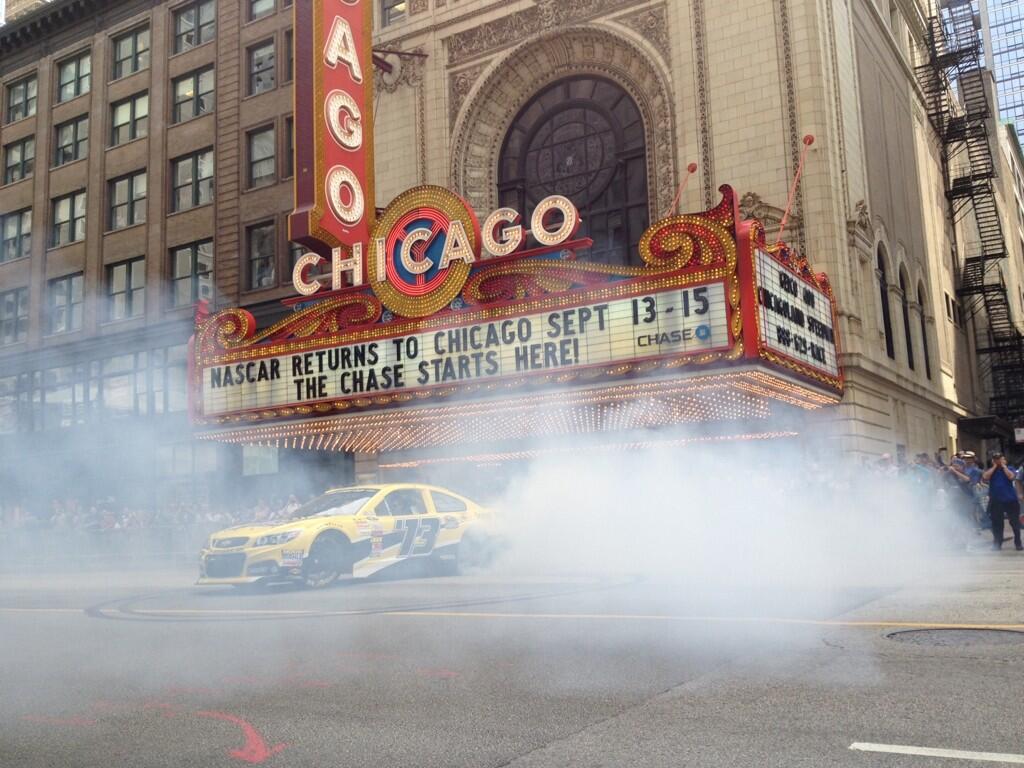 Laura S.@Hendrick88Team
#DaleJr about to be live on @SportsCenter. Tune in! #DaleJrCHI
Miss Sprint Cup @MissSprintCup
#DaleJr is about to go live on @SportsCenter! Catch him now! #BehindTheScenes #DaleJrCHI -JR pic.twitter.com/lRS6i7ru1Q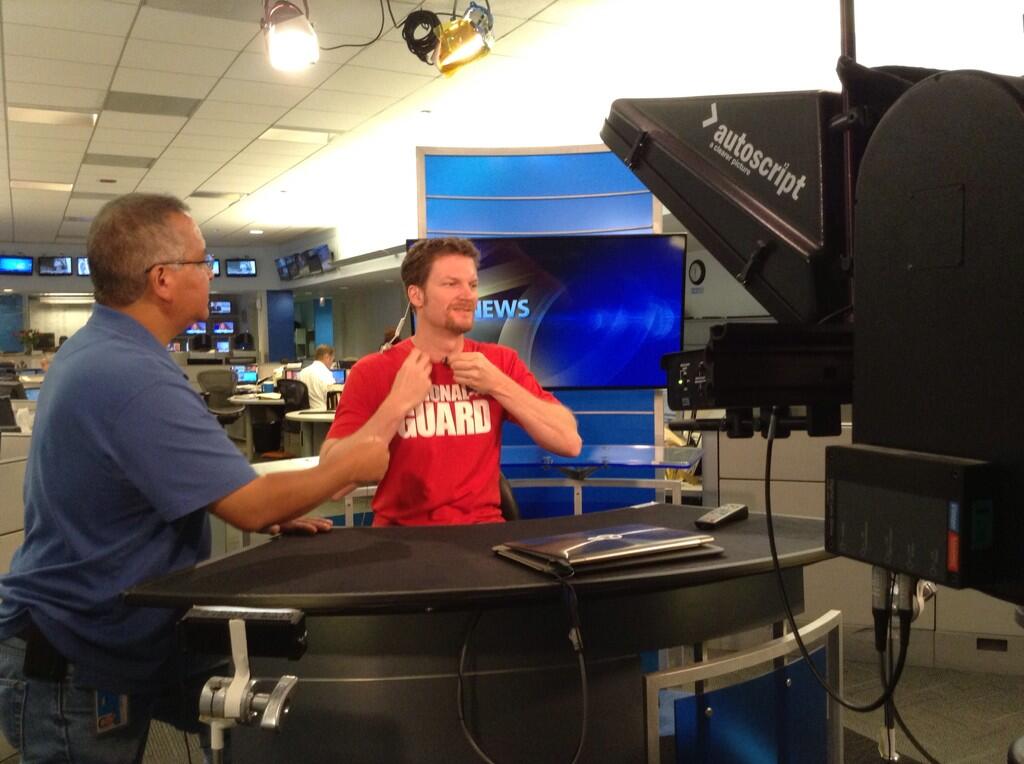 Laura S.@Hendrick88Team
#DaleJr is live on @SportsCenter. #DaleJrCHI pic.twitter.com/XM9XNXB24T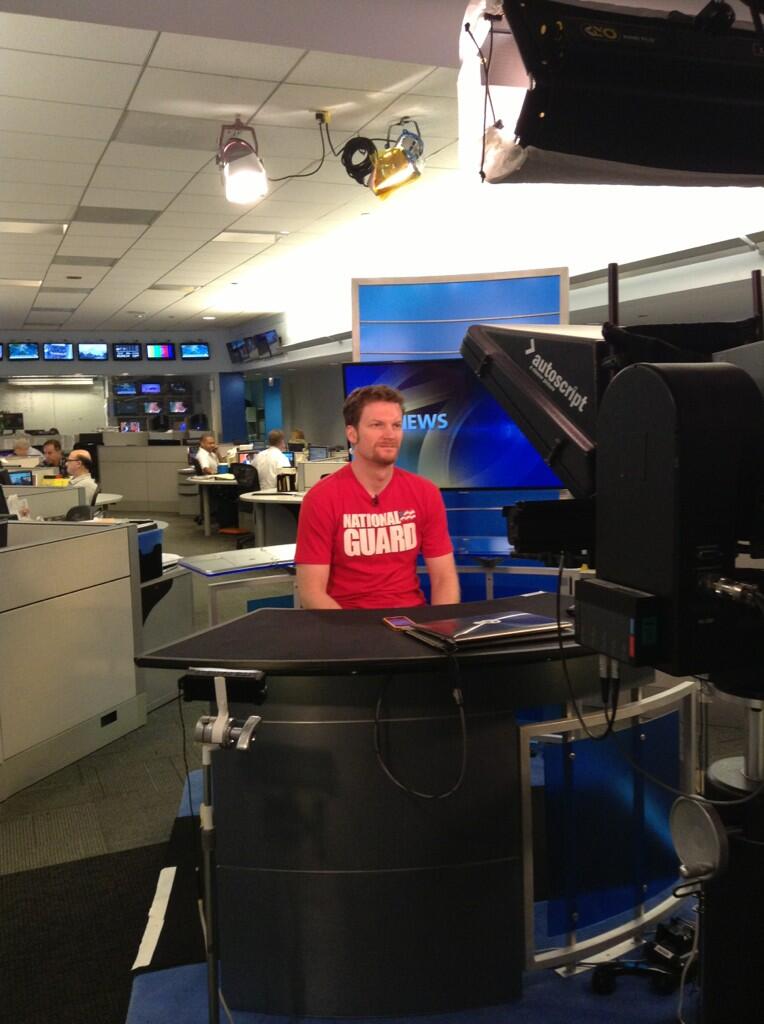 Laura S.@Hendrick88Team
#DaleJr answering questions at Millennium Park with @MissSprintCup. #DaleJrCHI pic.twitter.com/7rTn5tRExl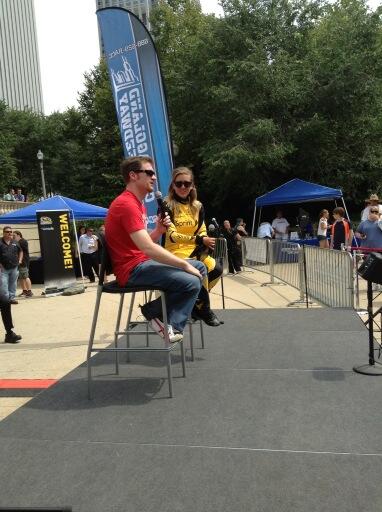 Chicagoland Speedway@ChicagolndSpdwy
#DaleJr and @MissSprintCup host a Q&A session in @Millennium_Park. @Hendrick88Team #NASCAR pic.twitter.com/K2xEyGDxGg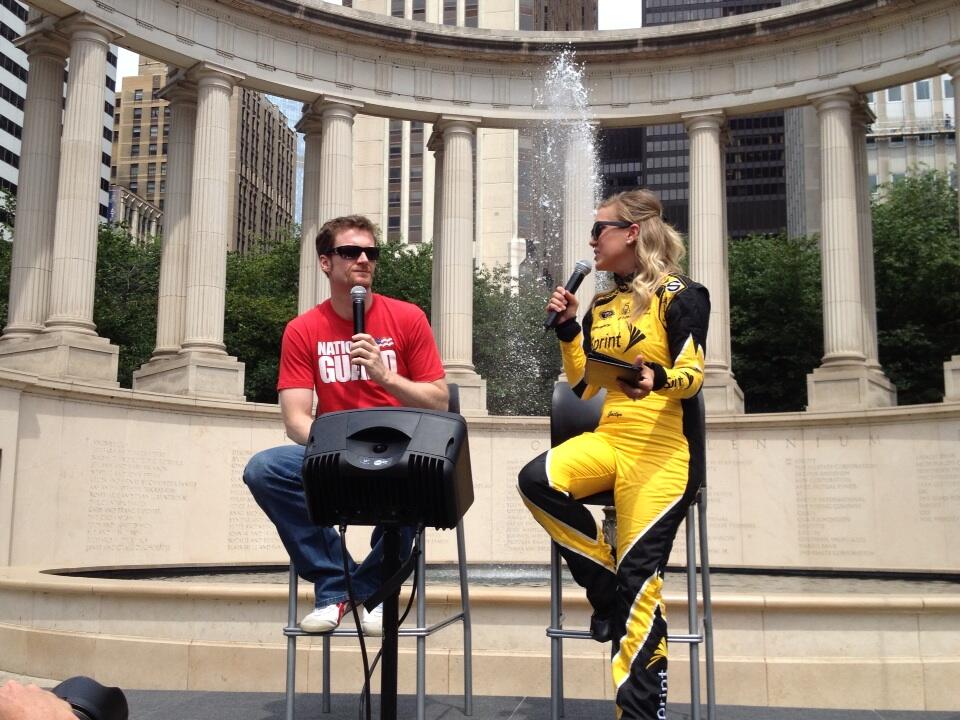 Chicagoland Speedway@ChicagolndSpdwy
"The trophy I would like to win the most is the @sprint cup." - #DaleJr
Chicagoland Speedway@ChicagolndSpdwy
"I am a big fan of country music. I grew up outside of Charlotte, N.C. I like all kinds of music." - #DaleJr
Chicagoland Speedway@ChicagolndSpdwy
"What really makes me happy is winning races." - #DaleJr'a answer to fan question
Chicagoland Speedway@ChicagolndSpdwy
"I like BBQ, seeing some of the buildings, Art Deco and The Bean are cool to see in Chicago." - #DaleJr's answer to @nascargal18's q
Chicagoland Speedway@ChicagolndSpdwy
"I actually watch a lot of cooking shows. I cook a lot when I have days off." - #DaleJr when asked about what he watches on TV
Chicagoland Speedway@ChicagolndSpdwy
"I like to go to Key West. I bought a vacation home a few years ago." - #DaleJr when asked where he likes to go on vacation
Chicagoland Speedway@ChicagolndSpdwy
"If I wasn't a racecar driver, I would probably be a football player. I love playing." - #DaleJr
Chicagoland Speedway@ChicagolndSpdwy
Our mascot, Dash, poses with #DaleJr and @MissSprintCup Jaclyn. @Hendrick88Team #NASCAR pic.twitter.com/TKPIyyXngx