You know, Michigan winner Clint Bowyer's last tweet before his big win Sunday referenced iRacing, in their sponsorship of his dirt racing team. Could this be an exception to the iRacing curse?
Awesome! That @iRacing car looks 💪 https://t.co/WpH6iXtxS5

— Clint Bowyer (@ClintBowyer) June 10, 2018
iRacing's Season 3 update brought racers plenty of updates — including new, enhanced visual features when you spin through the grass. It may not sound like a big change, but if you're a frequent crasher like some people, it's a game-changer.
With new particle effects, spinning out never looked so good. #iracing pic.twitter.com/JHujp7ycJe

— iRacing.com (@iRacing) June 6, 2018
The release of a new build means a whole bunch of updates to download — maybe not the most fun part of an iRacing driver's career, as Richard Childress Racing NASCAR Xfinity Series driver Shane Lee expressed:
Getting on @iRacing after two weeks and having what feels like 6 years of updates is terrible

— Shane Lee (@ShaneLeeRacing) June 6, 2018
It seems like Lee got everything up and running, though, as evidenced by his drive around RCR's simulation setup at Michigan.
Even though @ShaneLeeRacing won't be in the No. 3 car with us this weekend, he sheds some light on his experience at @MISpeedway 👌@iRacing | #NASCAR pic.twitter.com/BeqVfzqXyF

— RCR (@RCRracing) June 8, 2018

NASCAR PEAK ANTIFREEZE IRACING SERIES UPDATE
The world's finest virtual racers head to Michigan International Speedway Tuesday after three weeks off. There's been a bit of shake-up atop our Race 8 Power Rankings following a thrilling side-by-side finish that crowned Nick Shelton a new winner in the series.
Ryan Luza, 2017 champion and winner of two races at the beginning of 2018, hasn't entered the last two races in the series, though he's expected to make a return at Michigan.
IRACING PAINT SCHEMES OF THE WEEK
Erik Le re-created the No. 54 DGR-Crosley Racing Toyota Tundra for the NASCAR Camping World Truck Series.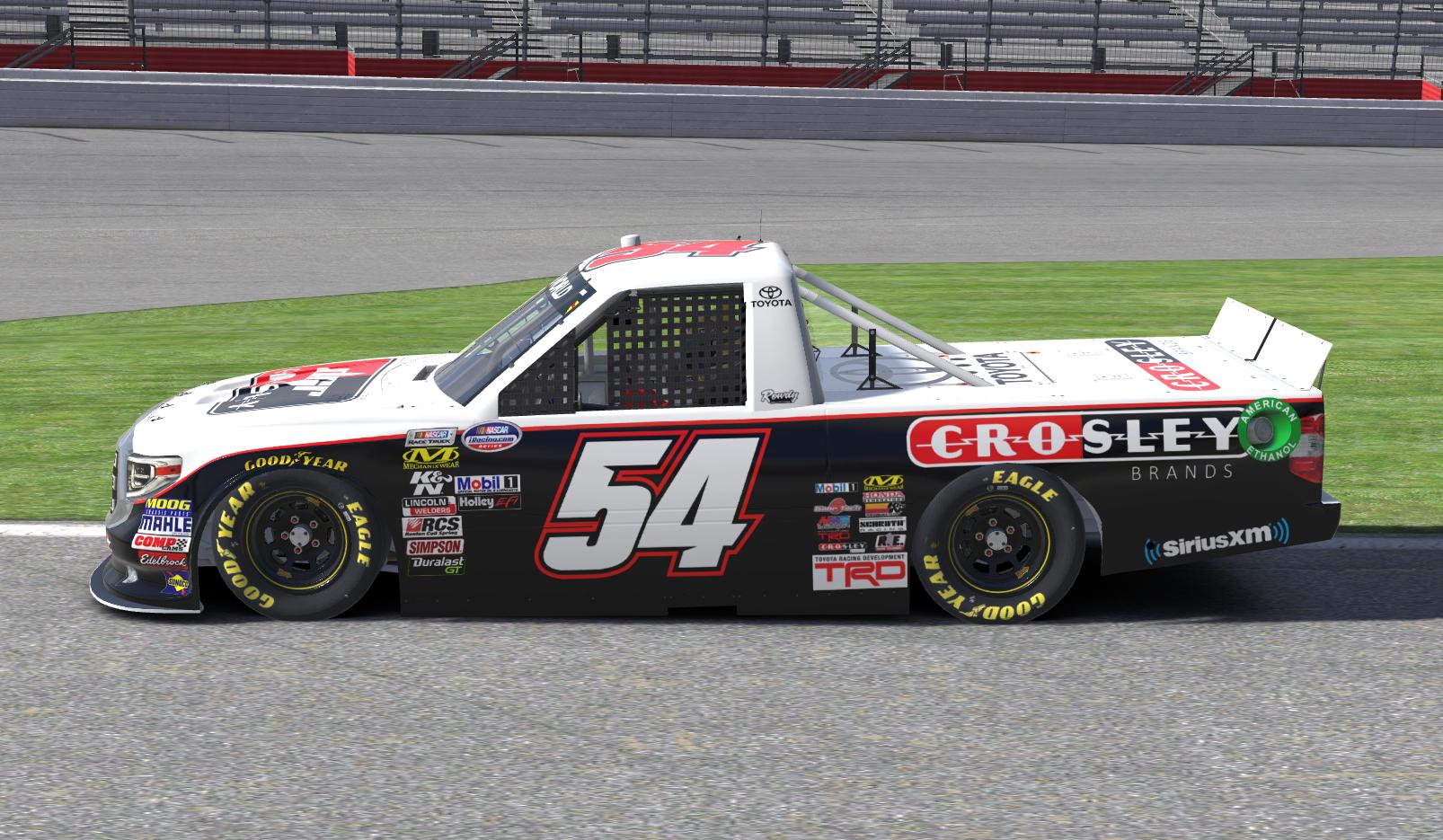 Matthew Meyer reimagined Erik Jones' Coca-Cola 600 ride as a super late model — a staple for Jones, the short track racer.

DON'T TRY THIS AT HOME
You know how they say cautions breed cautions? It's a reality in iRacing, too. Watch the field stack up on a restart in a league race, driving onboard with iRacer Aaron Bean.
— Aaron Bean (@BlackBlur14) June 7, 2018
With a little bit of luck, it appears Bean gained a few positions out of what was a disaster for other racers. Stay alert on restarts!