Last week, NASCAR announced the launch of a youth esports league for iRacing aimed at participants aged 13-16, kicking off next month.
This is a pretty big deal. With real-life stars using iRacing as a springboard for their racing careers, this series could provide a whole new outlet for teens who might not get the opportunity to showcase their racing prowess otherwise.
If you're a teen, you can get in on the action by visiting NASCAR.com/iRacing.
If you're a young racer or race fan trying to get into racing and you don't have @iRacing, you need to get it! Check this out!👇🏼👇🏼👇🏼👇🏼 https://t.co/LfjC3cs6fp

— Ty Majeski (@TyMajeski) May 9, 2018
RELATED: Why join iRacing?
Speaking of the transition from virtual racing to real racing, Xfinity Series driver Spencer Boyd continues to log laps on the sim.
Great having John from @calcuttaoutdoor over this morning to runs some laps on @iRacing @simgearsims. #NASCAR #iracing #CalcuttaOutdoors #Gruntstyle pic.twitter.com/5tAxhxBybP

— Spencer Boyd (@SpencerBoyd) May 12, 2018
NASCAR PEAK ANTIFREEZE iRACING SERIES UPDATE
Fuel mileage — it's a reality in sim racing, too. The NASCAR PEAK Antifreeze iRacing Series raced last Tuesday night at Kansas Speedway for the sixth race of the 18-race season.
Pole-sitter Logan Clampitt was on the verge of winning his first race of 2018, but came up just short on fuel, running dry within the final 10 laps of the race. Canada's breakout star Keegan Leahy claimed his second victory of the season after taking advantage of Clampitt's misfortune.
MORE: Full race recap
Ray Alfalla continues to lead in the championship standings, 22 points ahead of Leahy, and 45 points ahead of Ryan Luza, who missed Tuesday's race. The series heads to Charlotte Motor Speedway for a 300-miler Tuesday, May 22.
Leahy notches second NASCAR @iRacing Series win with late-race pass.

Recap: https://t.co/3UNHxGN3FV pic.twitter.com/merUD2r9n0

— NASCAR (@NASCAR) May 10, 2018
iRACING PAINT SCHEMES OF THE WEEK
The race at Darlington, where NASCAR teams race throwback paint scheme, doesn't take place until September, but that shouldn't stop you from racing Matt DiBenedetto's No. 32 Jeff Burton throwback on iRacing, re-created by Justin Bland.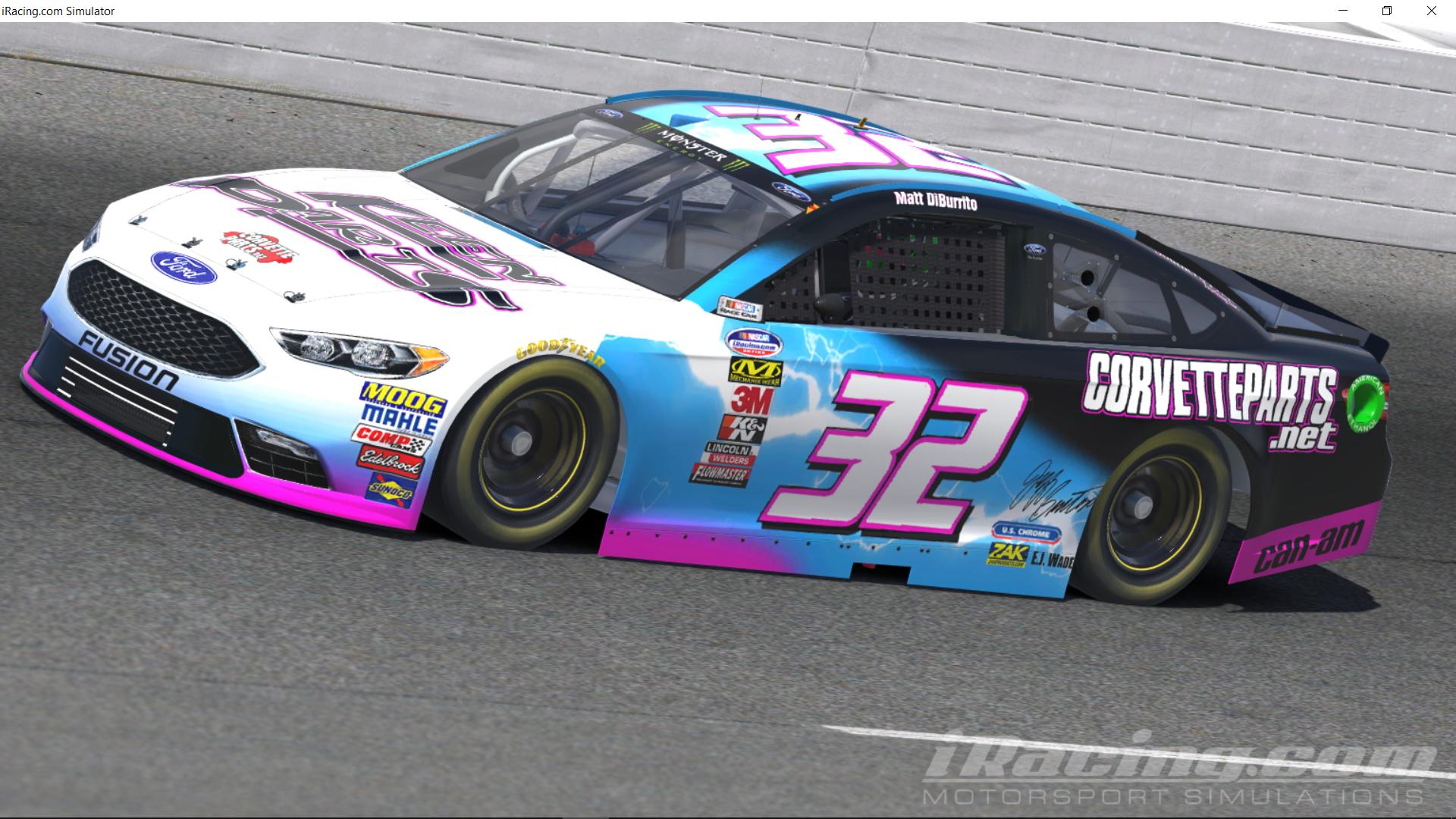 What happens when you mix a retro NASCAR truck and current-day Camping World Truck Series team GMS Racing's style? Erik Le has the answer with his fictional creation.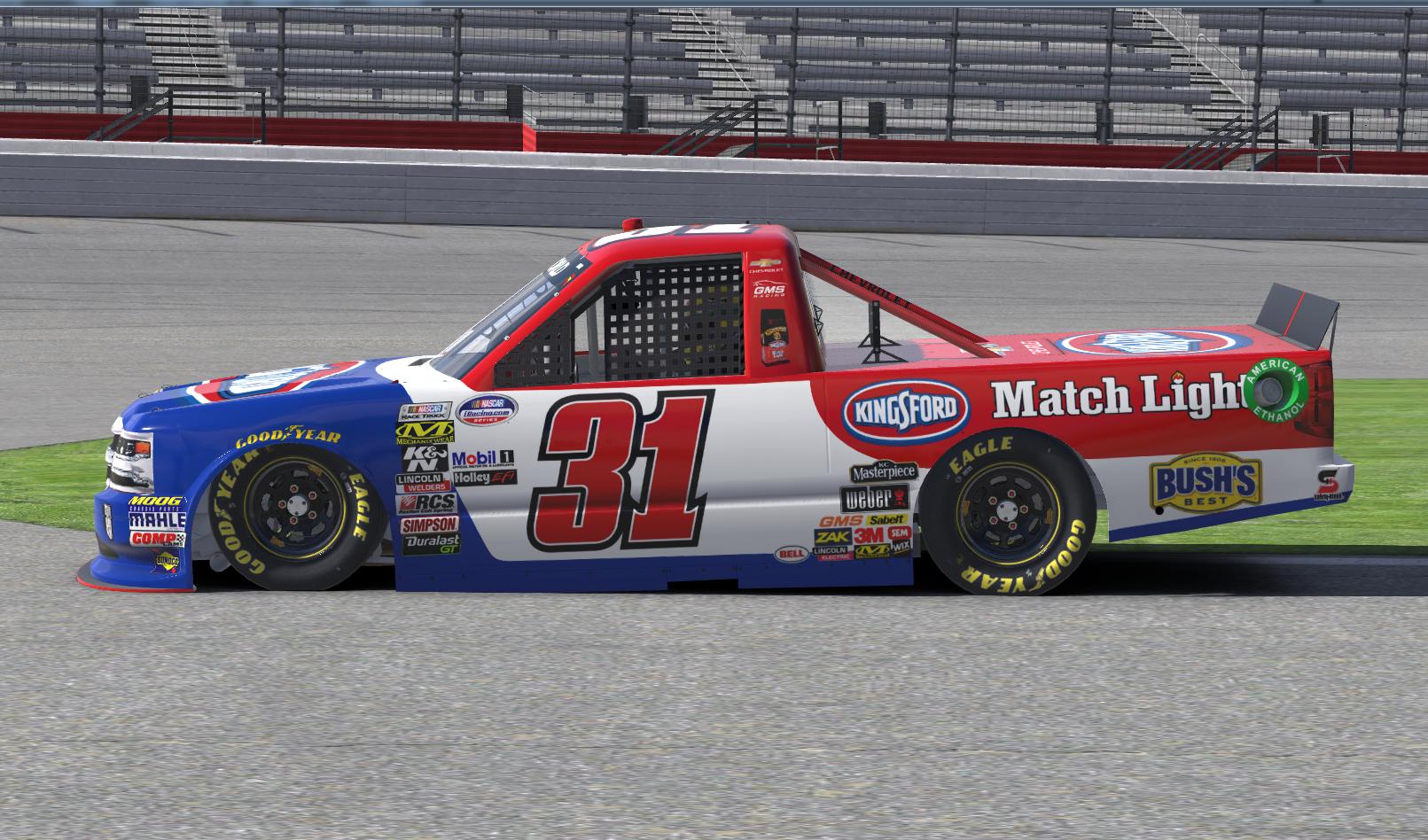 DON'T TRY THIS AT HOME
In NASCAR, the Big One is a reality at restrictor plate tracks like Talladega and Daytona. The same is true in iRacing (though the damage bill is substantially less expensive).
Watch some pixels get crunched in a Truck Series race at the virtual Talladega: